Supporters -
Friends
Great Launch Night Of Ben Glover's CD 'Atlantic'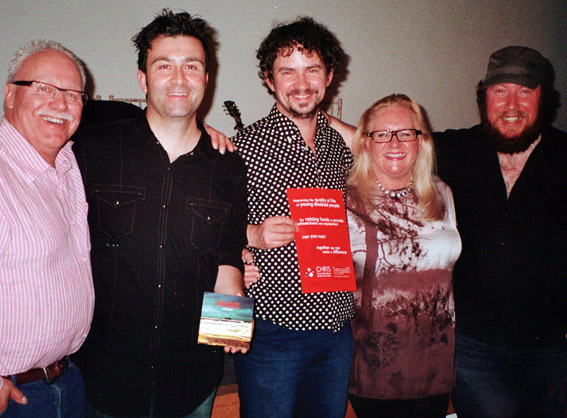 Gerry, Ben, Colm, Geraldine and Matt
We recently were guests of Ben Glover at the Launch of his new CD 'Atlantic' in the Ulster Museum. Ben is from Glenarm but is based mainly in Nashville for most of the year. It was a great experience to be with Ben and also Matt McGinn, and Colm McLean (who recorded Atlantic with Ben) during their sound check. They then put on a fantastic concert for everyone. Ben, Matt and Colm very kindly signed one of our charity posters to help raise funds along with a copy of Atlantic. This is a fantastic CD from Ben and for more information or to purchase a copy please visit:
The Ben Glover Website
Matt McGinn is also launching his new CD 'Latter Day Sinner' on the 1st November and for more information please visit:
Matt McGinn - Music
Thanks again for a great night.
Great Night with Beth and Friends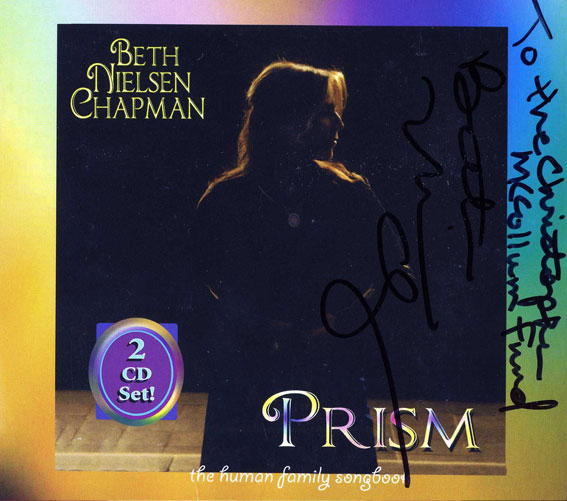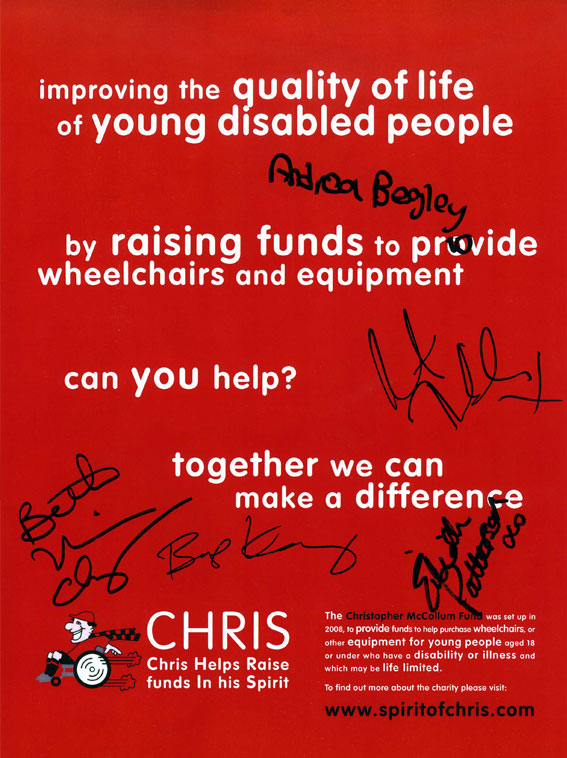 We recently saw Beth Nielsen Chapman in the Opera House and what a great night it was. Beth was accompanied by the talented Ruth Trimble (from Drumbo) and the great Maartin Allcock. Also guest appearances from the wonderful Bap Kennedy and the lovely Andrea Begley. Beth signed her Prism album "To The Christopher McCollum Fund" to help raise funds as our song "Shine All Your Light" is on this album. A charity poster was also signed by Beth, Ruth, Bap, Andrea and Eilidh Patterson to also help us raise some funds. Thanks again Beth and friends.
"Shine All Your Light" Kimmie and Beth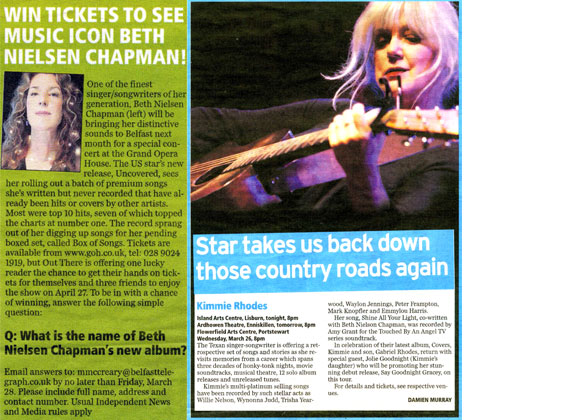 The two items above appeared in the Belfast Telegraph week 17/3/2014. It was lovely to see the song "Shine All Your Light" written by Kimmie and Beth mentioned, as a song in the American TV series "Touched By An Angel". We thank Kimmie and Beth again for also donating this wonderful song to our charity and helping to support young disabled people in N. Ireland. Both Kimmie and Beth have said it's wonderful to be able to give somebody a song and it's our favourite gift to give especially when used this way. Listen to their song on our Song page. Sadly we could not see Kimmie on this visit but are looking forward to seeing Beth in the Opera House on the 27th April.
Please visit: www.kimmierhodes.com | www.bethnielsenchapman.com to enjoy all their great work.
Michaela Hollywood – inspiring us all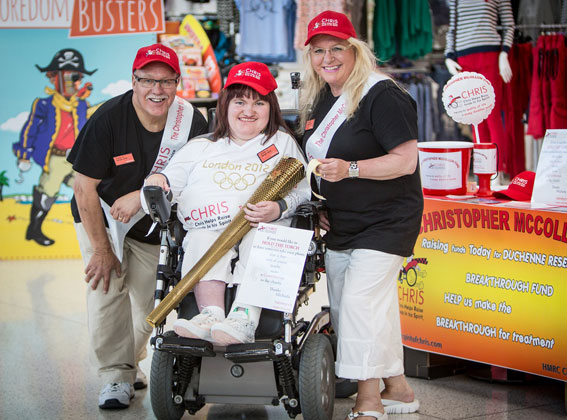 One of the special moments of 2013 was when Michaela came to Sainsbury's Bangor to help raise funds for the Duchenne Research Breakthrough Fund (click on "Great News" / Home Page to visit Sainsbury's Page). Michaela, who has Spinal Muscular Atrophy, wrote a wonderful blog on all that day meant to her. What better way to start a New Year than to share with you Michaela's blog as it is an inspirational read. Michaela mentions Christopher and her support for our charity but her main theme is how important it is to think of others and also to live life to the full. Read what her Olympic Torch means to her, not to sell it but to share it with everyone. Read her wonderful line "who knows maybe one of the £1 coins we got today could cure Duchenne tomorrow".
Please visit: The Life with Hollywood Blog Article Enjoy.
Michaela is a founder member of the Muscular Dystrophy Campaign Trailblazers, now a UK wide group, and campaigns for everyone with disabilities. She has just spent 10 weeks in hospital in late 2013. Michaela has now written 20 blogs and everyone an inspiration. We recommend you visit: http://www.lifewithhollywood.wordpress.com/ to access them all and of course future ones to come.
Thanks Michaela, for inspiring us all
Kimmie Rhodes Supports "CHRIS"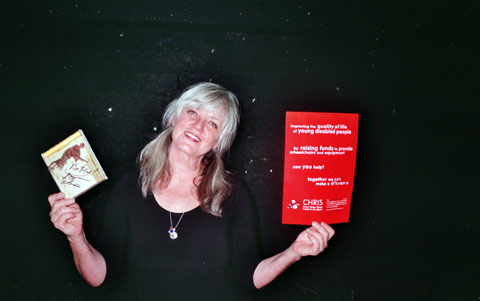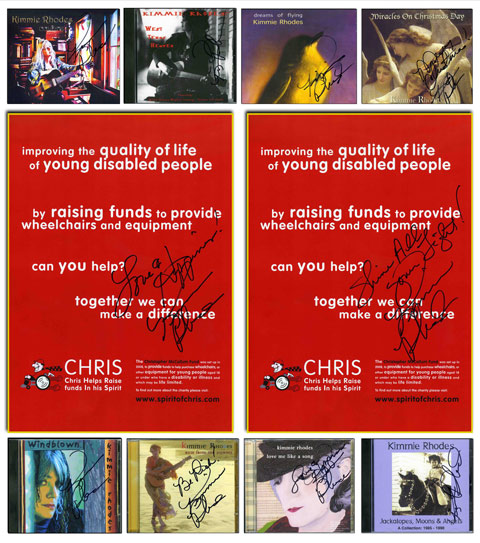 We recently saw Kimmie Rhodes, her son Gabe, and N Ireland Ruth Trimble in the Black Box in Belfast and what a great night it was. Kimmie along with Beth Nielsen Chapman co-wrote "Shine All Your Light" the song on our website. Kimmie and Beth are great supporters of our charity. That night Kimmie signed 8 of her CDs and 2 charity posters, for us to auction some time. The "Rich from the Journey" CD includes "Shine All Your Light". This was a lovely gesture and we thank Kimmie so much for this and also her kind words of support.
Mark Allen signs snooker cues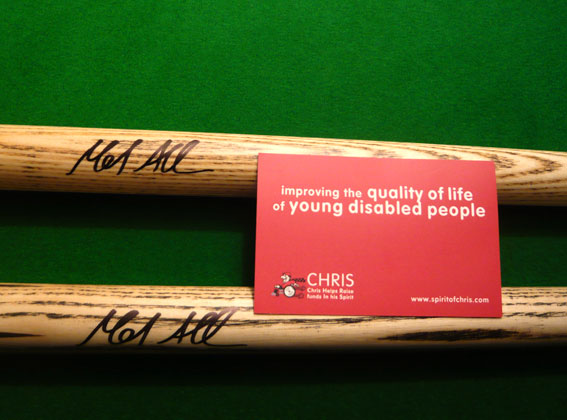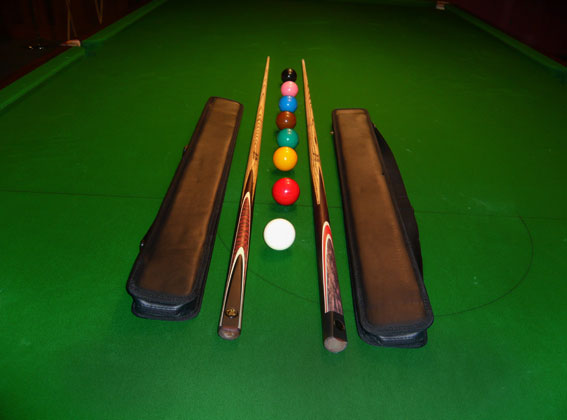 Our sincere thanks to Mark Allen for signing not one but two snooker cues and a charity card to help us raise funds. Our thanks also to Mark Magoran and especially Seamus McGivern of Drumaness Snooker Club for asking Mark Allen to do this. Thanks also to Seamus for donating a case for each cue which was a tremendous gesture.
Messages of Support from Eamonn and Ruth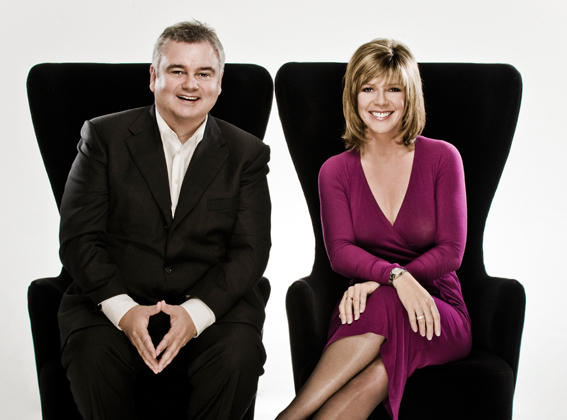 We were really pleased to receive a lovely letter from Eamonn Holmes together with signed charity cards by himself and Ruth Langsford. We wish to thank Eamonn for his wonderful comments on the charity and Christopher. It was also tremendous when both Eamonn and Ruth signed our cards and also sent over an official photo of them. We will frame the photo and cards to help raise funds.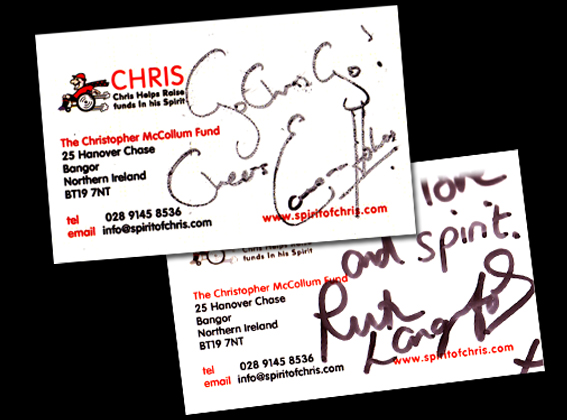 Our sincere thanks to Eamonn and Ruth for taking the time to support us this way.
Spirit of Chris and "History of the Troubles"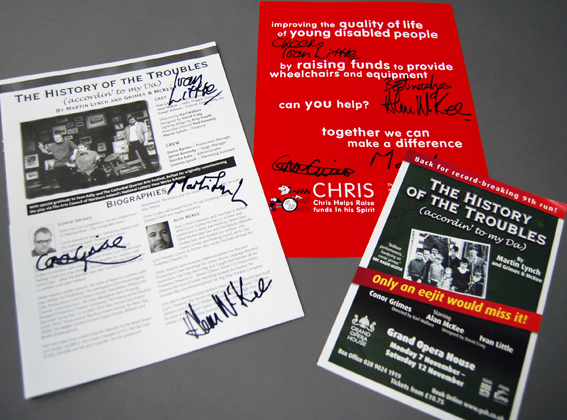 Our thanks to Conor Grimes, Alan McKee, Ivan Little and Martin Lynch for meeting us after the final night of "History" in the Grand Opera House. It was good of them to give us their time to sign the items as well as some charity cards which we will frame to help raise funds.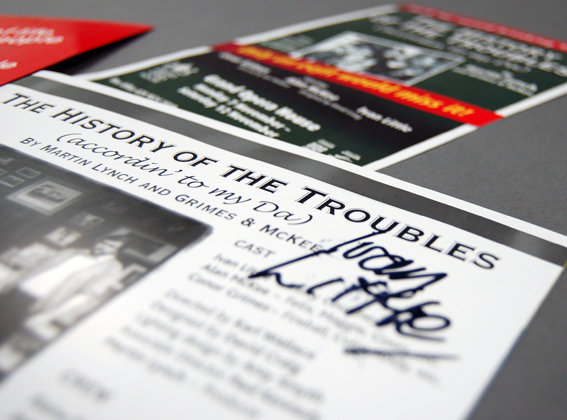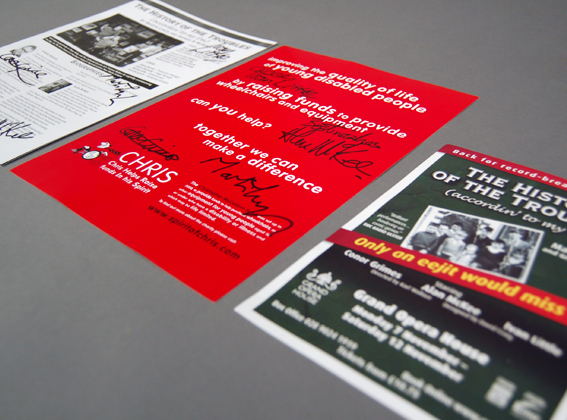 Conor Grimes completes Dancing Shoes jerseys
Our thanks to Conor Grimes for meeting us to complete the signatures of the cast of Dancing Shoes on two jerseys, to help raise funds. We had met the cast apart from Conor at the George Best Musical in August. We sincerely thank all the cast for signing two jerseys and a scarf. A big thank you goes to Martin Lynch for organising this and Marie Jones for all her kind words.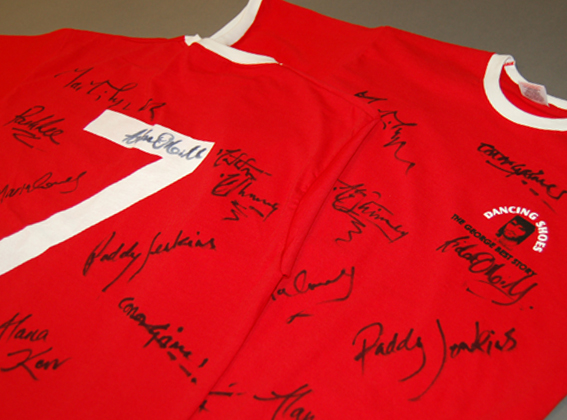 Rory McIlroy signs Dubai newspaper
Our thanks to Rory McIlroy for signing the "Gulf News" issued the day after he won his first professional event in Dubai on 1st February 2009. Christopher's Uncle Ronnie Browne was in Dubai and brought the paper back for the charity to get signed. Thanks Ronnie. Thanks also to Roger Moffitt who helped get Rory's signature. We will frame this unique item to help raise funds.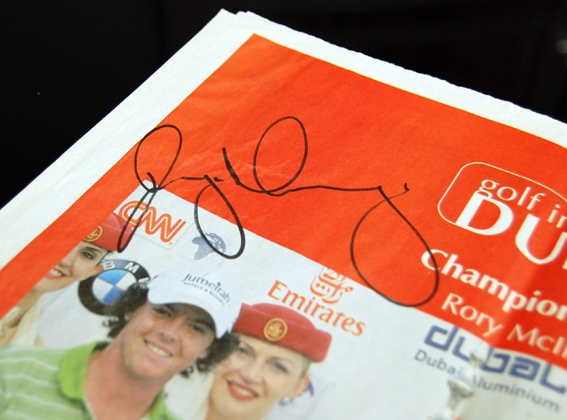 Tom Paxton signs poster
Thanks firstly to Kieran Goss for a wonderful concert at The Grand Opera House on 2nd April 2011. Kieran invited American legend Tom Paxton, Eddi Reader (Fairground Attraction), Maura O'Connell (De Dannan) and Brendan Murphy (Four Of Us) to join him that night. It was great to get a charity poster signed by everyone to help raise funds.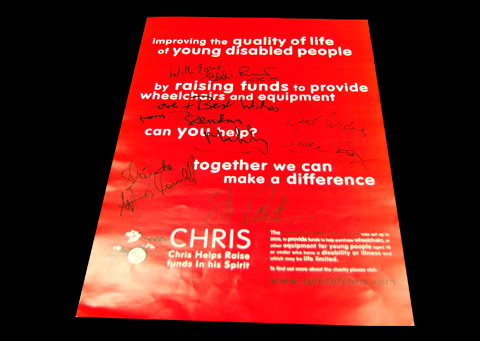 Kimmie Completes poster
Our thanks to Kimmie Rhodes and her son Gabe who added their names to our charity poster in December 2010 and join those of Beth Nielsen Chapman, Kieran Goss, Brian Houston, Ben Glover, Eilidh Patterson, Anthony Toner and Tony Allen (Foster & Allen). We will use the poster to help raise funds.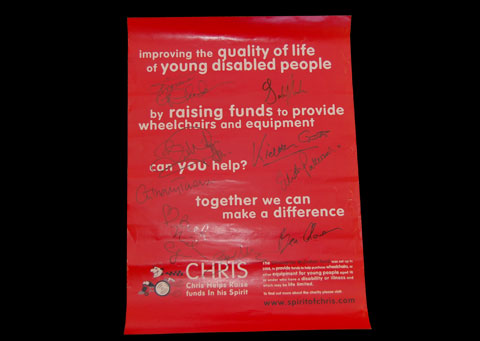 Brian Houston Limited Edition CD
Brian Houston had a sold out concert in The Grand Opera House on 16th February 2011. A limited edition CD of the live concert rehearsal was on sale that night. The CD has a special red ribbon memento. Brian signed a CD with the words "Support The Christopher McCollum Fund". We thank Brian for this kind gesture and will use it to raise funds.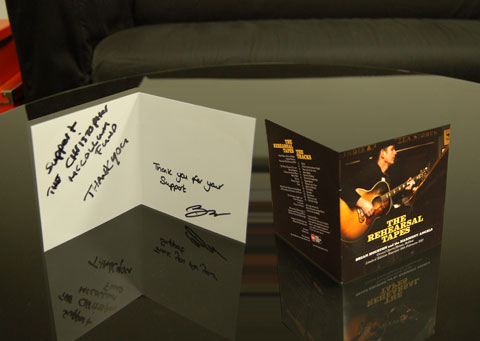 Kieran Goss Signs Poster
Our thanks to Kieran Goss one of Ireland's most talented singer/songwriters who recently added his signature to one of our charity posters to help raise funds. The poster already includes the signature of Beth Nielsen Chapman, along with other great local singer/songwriters including Brian Houston, Ben Glover, Anthony Toner, Eilidh Patterson.and Tony Allen of Foster & Allen.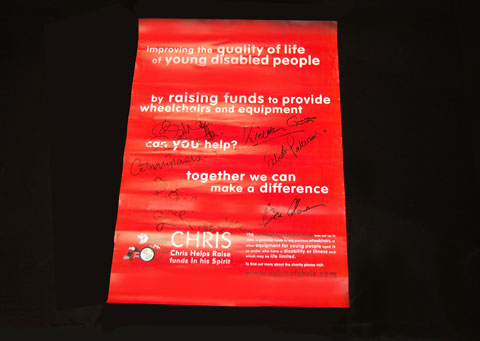 Snow Patrol Showing Support
Our thanks to Tara Richardson and Snow Patrol who signed several of our charity posters in Bangor June 2010, to help raise funds for the charity.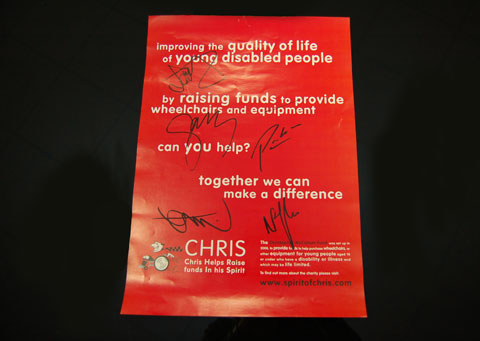 Brian Houston signs CD
"To Gerry and Geraldine. Please keep up the good work."
from Brian Houston
Words of encouragement from Brian Houston, signed on one of Brian's albums. 18 June 2010